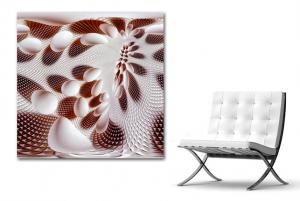 http://www.soulbyweekly.com/a-digital-artists-evolution/

Today SOUL talks to a celebrated Digital Artist, Dolores Kaufman from USA, who has received numerous awards while exhibiting her work both in the U.S. and various other venues around the world. In 2012, she was chosen one of 17 Grand Masters of Digital Art by MOCA: the Museum of Computer Art. In addition, her work has been featured in numerous publications.

S: Who is Dolores Kaufman? Tell us something about yourself?

DK: Hmm, I am a graduate of the Cleveland Institute of Art and Case Western Reserve University. I began my career as a visual artist with a one woman show at the Women's City Club Gallery in Cleveland, Ohio. My early works were large colorful abstracts, but within a few years I became caught up in the excitement of photography and never looked back, well, at least not with a paintbrush. . . . . . . . . .